SERAIAH:
Artist of Many Talents

As a Performing Musician and Recording Artist, Seraiah excels in many areas and whose talents encompass a broad range of styles in excellence and improvisation. He strives for perfection in all that he does and music is one of life-long passions and most personal forms of self-expression. He has experience in Event Promotions and Coordination along with Set-Up and Security Systems.

As a Professional DJ, Seraiah has rocked the decks in British Columbia, Canada, and many hot spots in the United States. He now resides in his hometown Denver, Colorado.

His artistic scratch composition has granted him center stage aside many amazing Hip Hop artists such Legendary KRS ONE (NYC - BOOGIE DOWN PRODUCTIONS), as well as Performing consistently with elite Emcee A.P.O.S.T.L.E. (Seven Soldiers / Heavyweight Dub Champion) and EDUCATED FIGURES.

One of Colorado Hottest Radio Stations, 93.3 FM, frequently played EDUCATED FIGURES Hit Single "Get It" Featuring DJ Seraiah on the Chorus Scratches.

He has played in Award Winning Nightclubs such as THE CHURCH, VINYL, and RISE, along with choice venues such as the BOULDER THEATER, FOX THEATER, GOTHIC THEATER, COLORADO CONVENTION CENTER, HERMAN'S HIDEAWAY and WIEDEN & KENNEDY ADVERTISING FIRM to name a few!

He enjoys bringing new flavor to Mountain Resort Ski and Snowboard towns such as Steamboat Springs, Glenwood Spring and Vail.

He also specializes in Private Events such as Weddings, Graduations, Tournaments, MMA Fights and Much More.


DJ EXPERIENCE:

Mixing for 13 Years and Scratching for 9 Years.



IDEAL STYLES AND GENRES:

Breakbeats
Drum & Bass
Hip Hop
Dub Step
Industrial
Reggae & Dub
Scratching and Turntablism.

*Seraiah Can Mix Any Style....
But Prefers the BREAKBEAT SOUND!!



EQUIPMENT:

For LIVE DJ Performances:
MAC G4 with SERATO SCRATCH LIVE SET UP and Original Vinyl for LIVE DJ SETS AND Performances.

In The Studio
Acid Pro 5, Reason, M-Audio: Audio Buddy Mic-Instrument Pre-Amp, 2 Technics 1200 MK II Turntables, Rane TTM 56 Mixer, Vestax PMC 07 Mixer, Stanton Needles, Berringer Mixing Board


SERVICES OFFERED:

Live DJ Sets
Musical Production
Instrument Recording
Event Hosting & Emcee
Sound System Rental & Set Up Event Coordination
and Much More!





For More Information and Booking Contact:
seraiah@seraiah.com or 303-753-2735 VM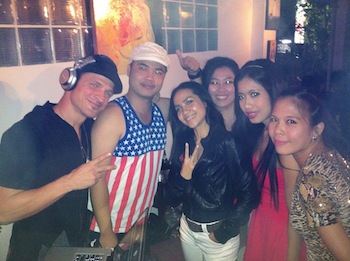 Now Available! Shirts, shorts, hats, booty shorts, panties, CDs, DVDs & Much More!

Coming Soon: Kids, Women and Men Apparel.

Contact Seraiah to place an order.

10/01/13
The original history of yoga and its origins can be traced back over 10,000 thousand years, but its creation specifics are both vague and mysterious. Essentially Yoga has countless systems and sub-systems focusing on principles that align the mind, body and soul. The integration of asanas (poses/postures), breathing techniques, meditation pathways and other unique variations will help the practitioner attain a higher quality of life and maintain healthy organs, muscles, connective tissues and mental facilities. "Yoga is an ancient practice that has historically centered in India. It was a technique that was passed own from generation to generation through master-disciple relationships." (Smith 1) Dialogue and personal experience were the main forms of transferring knowledge from teacher to student before the yoga Bible, Yoga Sutras were written in 200 B.C. by a man named Pantanjali. "The Yoga Sutras attributed to the Sage Pantanjali are used as a source scripture by many traditional Yoga Systems.

Read This Post »