MUSIC PRODUCTION

ROUTINE MUSIC FOR ATHLETES

ORIGINAL MUSIC COMING SOON!

Seraiah was inspired by best friend and Professional Producer Aaron Perry (DJ Illnaughty - Fanbass Recordings) to utilize the blessings of technology to advance his musical dreams. He is in the process of learning production software like ABLETON and REASON while learning techniques and philosophies from some very talented up and coming producers. And in doing so he is combining live instrumentals, vocals, scratch effects with unique beat designs.

An unorthodox style of Breakbeat, Glitch Hop, Conscious Bass Music, World Bounce and Down Temple is on the horizon. Working closely with Emcees and Spoken Word Poets his collaboration efforts will be well worth the wait. With Album releases and singles on the way be prepared for a new style of scratch composition and intellectually thought provoking production with meditative properties where the listener transcends to higher states of consciousness all the while becoming one with the music.

He has worked with many Professional Bodybuilders Fitness Competitors and MMA Fighters doing Routine and Intro Music Mixes. Whatever the needs may be, Seraiah's experience and excellence make him one of the most sought after DJ's for competitive industries, performances and CHAMPIONSHIP MUSIC!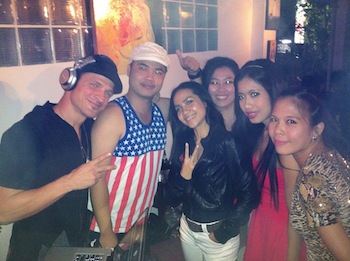 Now Available! Shirts, shorts, hats, booty shorts, panties, CDs, DVDs & Much More!

Coming Soon: Kids, Women and Men Apparel.

Contact Seraiah to place an order.

10/01/13
In this sometimes hectic and fast paced world we live in, most people cannot or will not let themselves relax or calm the thoughts even for 5 minutes throughout the day. It has been proven scientifically and intuitively that stress is the #1 cause of illness, disease and cancer. If one can learn to combat these stresses in positive and enlightening ways one can increase quality and longevity of life. This information breaks down some basic meditation techniques and is outlined for use by fighters and athletes. The following are positions or postures that can be practiced for focus or relaxation and can be led by intention of thought or absence of thought.

Read This Post »